Explaining U-Factors and Solar Heat Gain Coefficients For Windows and Doors
Date Published: September 19, 2022
In today's day and age, with expenses and bills around every corner, we're all looking for ways to cut costs. If you are a homeowner, you know that your monthly bills to keep the house going have been steadily increasing over time. One of our biggest burdens are those costly heating and cooling bills.
One way to save significantly on these energy costs is to make efforts to increase the energy efficiency of your house. This can be done in many ways including upgrading insulation levels, increasing the efficiency of your mechanical systems (i.e your furnace and water heater), or reducing the air leakage in your home.
However, one of the best ways to do this is by updating your windows to meet higher energy-saving standards. This is especially true when your windows are older.
But in a world with seemingly endless window options, what qualifies a window as energy efficient? There are two main parameters that are measured in order to determine a window's efficiency – U-Factor and Solar Heat Gain Coefficient. Having a better knowledge of these concepts can help you choose the windows that are right for your home.
What are U-Factors (U-Value)?
A U-Factor (also referred to as U-value) is a window's rate of loss of non-solar heat. Similar to insulation R-Values (which we discussed in a past blog), U-Factors indicate the energy efficiency of a window. The lower the U-Factor, the more energy efficient the window is.
Conversely, windows with high U-Factors are less efficient. This form of measurement was created by the National Fenestration Rating Council (NFRC) as a way to have one, uniform method when determining window, door, and skylight efficiency.
A window's U-Value can be determined by assessing three aspects of the window – the frame, the glazing (or glass), and the spacer. Each plays a key role in achieving an optimum window seal.
What is the Solar Heat Gain Coefficient?
The U-Factor works in conjunction with the Solar Heat Gain Coefficient (SHGC). The SHGC is the measurement of how much radiant heat, or heat produced by the sun, comes in through a window. Similar to U-Factor, the lower the SHGC, the lower the radiant heat transmitting through the window.
As indicated in the chart below, the EPA recommends different U-Factors and SHGCs depending on the region of the country. These calculations are based on the approximate number of days spent heating and/or cooling per region.
Generally, lower U-Values will be recommended in heating-dominated regions (i.e. colder climates).  In cooling-dominated regions with warmer climates, it is not as imperative to have windows that will keep the heat trapped in the home, however, better U-Values can help keep mechanically cooled temperatures inside the home.
Note that the SHGC has a direct relationship with the U-Value. For instance, in the southern regions (shown in red), the U-Factor can be less than or equal to 0.40, but their SHGC must not exceed 0.25.
Homes in northern regions (shown in blue) have several options that qualify for Energy Star certification. With each option, as the U-Factor increases, so does the Solar Heat Gain Coefficient. This essentially means that the heat gain caused by the sun must compensate for the heat loss from a window with a higher U-Factor. It is the tradeoff between these two measurements that helps to create the overall performance of a window.
The window orientation in the home is also important when considering U-Factors and SHGCs. For instance, in a cold climate, a window facing south should have a high SHGC. On the contrary, in a warm climate, a south-facing window should have a low SHGC.
The geographic features of your property must also be taken into consideration. For example, you may have a large tree creating significant shade on one side of the house. That may mean those particular windows should have a higher SHGC to allow for more solar heat, or a lower U-Factor to increase window insulation.
All of these factors are important to consider when choosing the right windows.
Energy Star Rated Windows
In efforts to promote sustainability and energy efficiency, the United States Environmental Protection Agency (EPA) established the Energy Star program. This program gives certain components of the home Energy Star ratings if these components can meet a number of pre-determined criteria. Windows are a key contributor to energy conservation (or lack thereof), and thus they are one of the components that can receive an Energy Star rating.
Windows must be manufactured to strict specifications in order to meet an Energy Star rated U-Factor and SHGC combination. They are often double or triple paned. And sometimes the panes are even filled with inert gases, such as argon. Because argon is denser than H2O, it helps to stop air from transmitting through the window, which in turn reduces its U-Value.
The window frame is built tightly around the glazing to enhance insulation, and a spacer is installed to further decrease heat flow and prevent condensation. Also, most modern window panes are constructed with film-coated, low emissivity (or "low E") glass. Such materials help to reduce radiant heat and UV ray penetration.
All of these window characteristics cumulatively help to achieve an Energy Star rating and increase your home's energy efficiency.
Benefits of Energy Efficient Windows
Even though high performance windows might be costly up front, they have the potential to save you a lot of money over time. In fact, according to the US Department of Energy, equipping your home with the proper Energy Star rated windows can save you from 7% – 15% on annual energy bills. Not to mention, the overall climate control and comfort of your home will be elevated as well.
As incentives to strive for sustainability, some regions offer benefits such as tax credits and rebates to those who install Energy Star rated windows. So in addition to saving money on those monthly energy bills, you may even get paid by the government!
Many Colorado regions have established rigid, residential energy codes for new construction projects. Places like Denver and Boulder County require new builds, remodels and additions to meet certain criteria established by the Home Energy Rating System (HERS).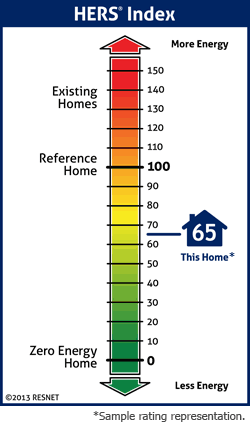 When we conduct our HERS rating services, we are assessing multiple aspects of the home to give it an overall energy score. As you could probably guess, one of the main aspects we observe are windows. Simply put, a better U-Value and SHGC will get you a better HERS rating.
Similarly, we conduct RESchecks to help builders and contractors comply with IECC energy codes. And as we've discussed throughout this blog, when it comes energy conservation, it's all about those U-Factors. Windows with optimal energy performance can help contractors meet IECC guidelines.
We hope that this excerpt has given you a better understanding of U-Factors, SHGCs, and the overall importance of good quality windows.
If you are interested in assessing the energy efficiency of your home, please feel free to reach out about our Scott Home Inspection Energy Services.
If you enjoyed this article, you may be interested in some of our others.